ATV Spreader FS Trailed
Paddocks, lawns and driveways are all taken care of with the Wessex 270 litre ATV spreader. Complete with a non-corrosive poly hopper this ATV spreader is ground-driven making it perfect for use behind ATVs and road vehicles. The FS trailed spreader has an adjustable frame which will suit varying hitch heights. There is also a flow-gate to control the release of the fertiliser or salt. An agitator in the hopper improves material flow while the optional winter kit is invaluable for the accurate spreading of free-flowing granular salt. For mounted spreaders please
see here
Wessex machinery is sold through our excellent dealer network. Get in touch with #TeamWessex, and we'll locate your nearest dealer and then look after you throughout your sales journey.
When only the best will do
When you purchase a Wessex product, you invest in over 55 years of innovation, manufacturing excellence and a commitment to progress that underpins the care for our customers, suppliers and employees. Since 1962 the Wessex name has been synonymous with superb quality, British built machines for the agricultural and groundcare markets. Our equipment is built for demanding applications, where reliability and durability are paramount.
Features & Benefits
SPREAD LIMITER – typically in winter maintenance applications for spreading salt on pathways, the spread limiter restricts the application width to approximately 1.5m.
EXTENDED AGITATOR – Keeps material moving within the hopper
FILTERING GRID – Breaks up lumps of salt before entering the hopper
Specifications
Hopper capacity 270 litres
(granular, fertiliser) 345 kilos
Height 1.43m
Weight 84kg
Spread width Up to 14m
Options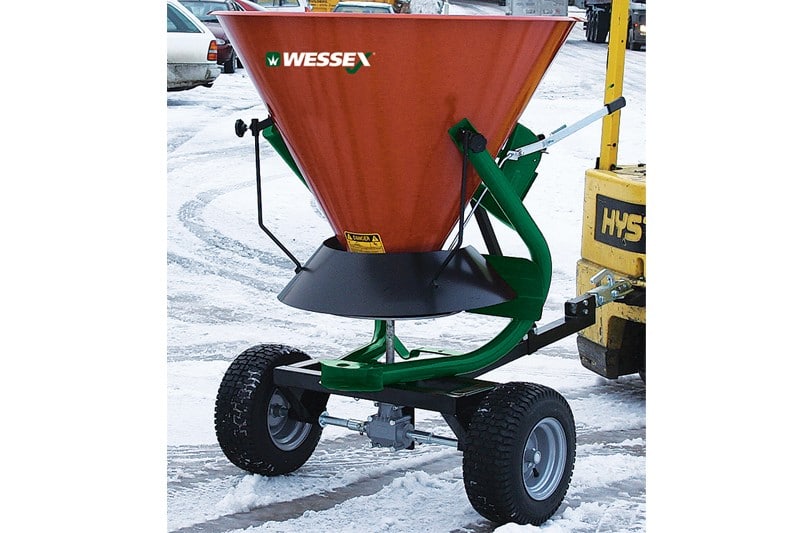 Optional Winter Kit
Book a Demo
Please submit your request for a product demonstration, and we will call you back to arrange a suitable time.
Menu